Welcome to BuskerBus!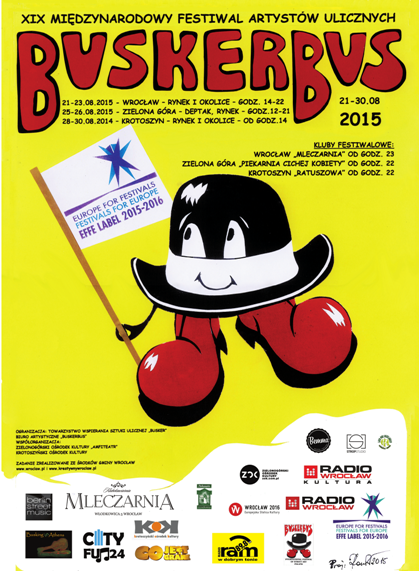 BuskerBus is an annual festival founded by Romuald Popłonyk. It is committed to the presentation of a unique and inspiring programme suitable for all ages. About 50 performers, mainly street artists (buskers) representing various art disciplines: musicians, clowns, jugglers, fire gulpers, magicians, stilts walkers, circus artists, dancers take part in the Festival.
The 19th International Festival of Street Art BuskerBus is currently scheduled to take place between 21st-30th August 2015. As always, BuskerBus will take place in Wrocław. This year we will also visit one of our favourite city Zielona Góra and, for the first time ever, Krotoszyn.
There will be performances in the street (around 35 shows presented by over 50 artists) during the afternoon and early evening with a concert/cabaret/jam session in each city's designated festival club following later in the evening.
Free entry to all events. If you liked the performances, we kindly ask you to reward the artists by dropping a few coins to their hats.
See you at the BuskerBus!