Artists 2018
22nd International Festival of Street Art BuskerBus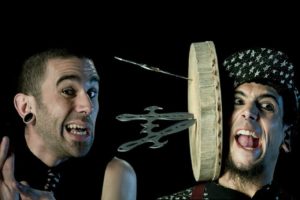 BuskerBus 2018 presents: Estupida Compañia
Genre: clownery with freaks elements
Kraj: Argentyna
Show: Indomitable
Two extravagant performers bring the oddities of the classic and old "Circus freak". The fakirism techniques, knife throwing, moments of high tension, comical acts, argument, and disputes amongst them and often with the audience, their passion for risk, their tenderness and innocence. There are many reasons that Stupid Company will give you to stay until the end of the show. Momolo and Remolacha will perform at BuskerBus for the first time.
BuskerBus 2018 presents: Gjurcinowsky
Genre: juggling/ clownery
Country: Macedonia
Show: Someone here is not normal
Darko Gjurcinovski (Macedonia) has been a street theater artist since 1999. After touring the world with a variety of different companies, in 2014 he created his original one-man show "Someone here is not normal?". Is a story about one fat person who likes to be a showman. The show is based on the Balkan folklore combined with clownery and juggling techniques. Darko juggles balls, clubs, fire and knives, even on top of a giraffe unicycle in a funny inflatable costume!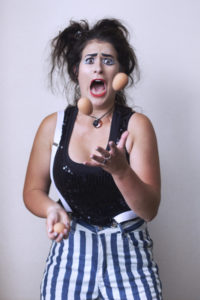 BuskerBus 2018 presents: Jess Brien
Genre: Clownery
Kraj: New Zealand
Show: Jess the Mess
Jess Brien is a performer and yoga instructor from New Zealand. They call her Jess The Mess and 5 minutes into her show you'll understand why! Armed with a sparkly personality, fire, eggs, and some seriously sweet dance moves, she brings you an interactive comedy street show entertaining both little and big kids alike.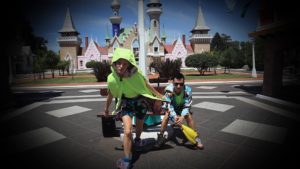 BuskerBus 2018 presents: NUBE
Genre: juggling and dance
Country: Argentina
Show: Todo Fantasy
It is a thirty-minute show of contemporary circus where modern juggling techniques are combined with different dance styles and acrobatics. An Argentinian duo NUBE uses handling, balance and choreography with plastic cubes, plastic boxes, blind eyes and chairs.