BuskerBus 2017
The 21st Festival of Street Art BuskerBus 2017 will take place between 19-27.08.2017. This year buskers will turn the sidewalks into stages in Wrocław (19-20.08.2017), Zielona Góra (22-23.08) and Krotoszyn (25-27.08.2017).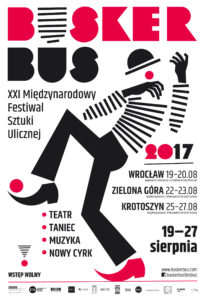 BuskerBus is like a big street celebration. Over 20 acts have been invited. 5 shows will be presented at the same time at BuskerBus stops. Each act will perform 1-2 a day. We invite artists representing a wide variety of artistic disciplines. Live music, fire shows, acrobatics, cyr wheel, tricks ballons and balancing on rolla bolla to name a few. Artists from Poland, Greece, Japan, France, New Zealand and other countries will show off their talents.
Our aim is to create an inspiring cultural atmosphere and you will also have some extra time for collaborations. We encourage all acts to cooperate and constantly improve their skills, young performers to learn from the experienced artists. We love those special shows prepared ad hoc. Local artists are invited to join the jam session at the festival clubs. Each Cabaret is a unique experience. This year the festival clubs are: Proza (Wrocław), Piekarnia Cichej Kobiety (Zielona Góra) and Kino Przedwiośnie (Krotoszyn).
Why should you come?
BuskerBus is a festival where interaction between the artist and the audience is a key element. Carefully crafted tricks, improvised theater, common singing, street dance and impressive new circus shows. Here everything is possible.
There are no fences and no tickets. Bring a blanket to comfortably watch the shows. Entrance is free but we encourage you to award artists with tips, applause or at least a smile. The more energy you give them, the more they will give you back.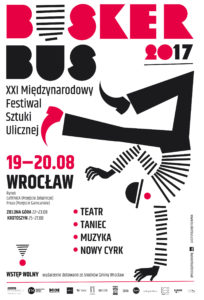 Festival was founded in 1997 by Romuald Popłonyk, a man who has travelled half of the world as a one-man band and performed at numerous music festivals. BuskerBus was first interdisciplinary busking festival in Poland.
Schedule:
19-20.08.2017- Wrocław
street shows: Rynek, przejście Żelaźnicze (CafeTHEA); festival club: Proza
Event subsidized by City of Wrocław www.wroclaw.pl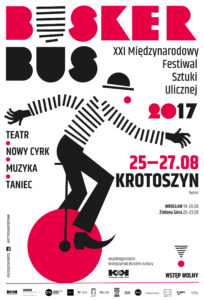 22-23.08.2017- Zielona Góra
street shows: deptak; festival club: Piekarnia Cichej Kobiety
co-organiser: Zielonogórski Ośrodek Kultury
25-27.08.2017- Krotoszyn
street shows: Rynek; festival club
co-organiser: Krotoszyński Ośrodek Kultury
See you there!
Małgorzata Węglarz, festival director
Contact: margarita@buskerbus.com