Meet performers of BuskerBus 2022. This year's edition will be a journey into the unknown even for the regular participants of the BuskerBus Festival. Most of the artists will perform in Poland for the first time.
A Dúo Andaban "Bien Agarraditos | Acrobatics | Argentina
A Dúo Andaban consists of Erika "Chocolate" Gómez and Maximiliano "Kenai" Garro. from Argentina.
Since 2018 they have been performing with their show "Bien Agarraditos" filled with high-skilled acrobatics stunts. They use circus tricks to share a story about developing feelings between two people and their adventures.
It will be the first time for A Dúo Andaban to perform in Poland.
Astronauts Theatre "La sirena Theoni" | Living statue | Greece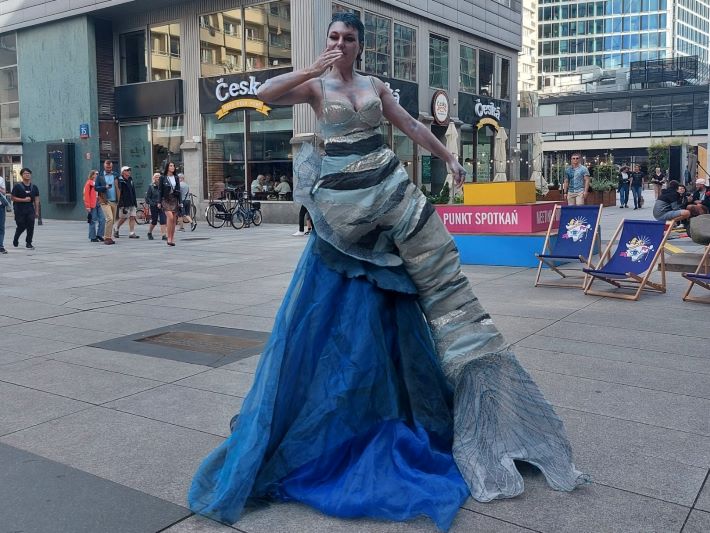 A beautiful figure from Greek mythology reminds us that although we delight in the beauty of nature, we sometimes forget to take care of it. In the final scene, she frees herself from the plastic, reminding everyone that we shouldn't pollute the rivers.
Frosso performed at the BuskerBus Festival in 2021 as the Royal Peacock. This time she returns in a new appearance
El Gran Disparate "El Gran Disparate" | Magic | Uruguay
Born in Uruguay, with a restless spirit and a nomadic heart, Diego Martinez began his artistic career in the world of photography in the 90s underground of Montevideo. In 2002 he left his camera in Mexico to dedicate himself to circus and street art.
Later on, in Brazil, together with Jorge Zagarzazú, he created the company The Pambazos Bros. For 15 years, they produced five shows and performed in 25 countries. Since 2020 Diego has been living in Ibiza, Spain and performing in his first solo show "El Gran Disparate".
A magician with a supposed past filled with glory and glamour in the great shows of Las Vegas faces today a demode present without lights or glitter. Time passes, and the rabbit does not want to leave the top hat. Despite the change, the artist keeps his nobility and is tireless in fighting for his ideas and impressing the audience.
Diego performed at BuskerBus in 2010 as part of the duo The Pambazos Bros.
Gato Blanco Gato Negro "Atempo" | Circus, clownery, diabolo, acrobatic | Argentina
Paula and Javier are graduates of various artistic schools in Rosalio in Argentina. Since 2017, they have been working together as Gato Blanco Gato Negro.
"Atempo" is a silent circus-theatre act that combines physical comedy, acrobatics, diabolo and ball juggling, archery, and human puppets.
Two exotic clowns full of extravaganza present their invention to the audience: a circus clock. Numbers transform into juggling balls, bells into diabolos, hands into arrows, with music and dancing marionettes inside. Suddenly the clock stops. As time is unravelling, the show comes together.
It will be the first time for Gato Blanco Gato Negro to perform in Poland.
Juggling Dom "PYRAMID" | Juggling | Australia
Four wooden pedestals display juggling balls stacked in a pyramid shape.
This performance explores the different possibilities of constructing and breaking apart the pyramid shape through complex juggling sequences. The games developed during the performance play with the audiences' expectations, with fast-surprising moments of balls being kicked, hit and rebounded in unexpected directions. This contrasts the precisely choreographed juggling sequences and satisfying repetition when the balls suddenly reform the familiar pyramid shape.
Domenyk grew up in Australia and from a young age enjoyed entertaining. He completed a Bachelor in circus arts at Stockholm University,
It will be the first time for Juggling Dom to perform in Poland.
Justin 3 "Lullabies from Space" | Music | Lithuania
Justin 3 is a music band from Lithuania that combines acoustic pop and rock music with electronic sounds. It was created by Justinas Stanislovaitis – a guitarist, vocalist, songwriter and actor. Together with Mantas Macijauskas and Šarūnas Starinskas, they will play songs from their newest album "Lullabies from Space" as well as older ones.
It will be the first time for the band Justin 3 to perform in Poland.
They will play in Zielona Góra and Krotoszyn.
Linda Wander Vellar "White Hole – a dialogue on upcoming times", "HOOPnosis – the ritual" | Acrobatics, hula hop | Italy
Linda Wander Vellar brings to BuskerBus two different shows that combine theatre and circus techniques.
"White Hole" – a dialogue on upcoming times
They say that in every fraction of time, there is a space, and in that space, our quantic particles travel toward the future. "White Hole" is about this space and the possibility of jumping from our everyday life to other alternative personal dimensions. During a common occurrence, like the afternoon tea ritual, doors can open into sparkling and mysterious realities. The show premiered in 2022
HOOPnosis – the ritual
"HOOPnosis" is more than just a circus show. It's a ritual and a magical ceremony of acrobatics. The luckiest in the audience can experiment with hypnosis, and be part of a physical and acrobatic experience. Join the trance, strange circles and twisted bodies.
Linda will perform in Poland for the first time.
Loud Mime

"Loud Mime Show" | Circus: juggling | United States

has been performing since the age of 8, and his experience shines through in his technical juggling, cringeworthy contortion, and crowd winning wit.

Recently he has been working on adjusting his show to be more family-friendly, in other words, more mime and less loud.

Will has been twirling hats, squeezing through tennis rackets, and juggling knives across America, but has never performed at BuskerBus or in Poland before.
LudiLò "Resta" | Aerial Acrobatics | Italy
Two characters with an inclination for order and cleanliness. A space that expands horizontally and vertically with no movement limits in both directions. A mysterious rope that becomes their means of transport.
LudiLò is an aerial circus duo based in Genoa, Italy. It is formed by a former professional athlete Chiara Gorrieri and a theatre actress Giulia Scudeletti. They have been working together since 2016. "Resta" is their first street show.
It will be the first time for LudiLò to perform in Poland.
Manshula circo "Parranda" | Circus: Hula-hop, acrobatics | Argentina
"Parranda" is an energetic show filled with hula-hoop tricks, clowning and acrobatics. Manshula invites the audience to a street fiesta.
Maria Jose Ferronato is a circus artist from Patagonia, Argentina. She started her artistic training at an early age. Since 2010 she has been busking in the streets of Argentina, Uruguay, Ecuador and Venezuela,
It will be the first time for Maria to perform in Poland.
Muti Santarosa "Muti Santarosa – Experience" | Magic, clownery | Chile
Muti Santarosa philosophy is based on Mexican actor Mario "Cantinflas" Morenowho's quote that the first obligation of human beings is to be happy, and the second one is to make other people happy. ​
Felipe comes from Chile. He started practising magic tricks when he was 8-years old. Later on, he focused on pantomime and clownery. One day his friend gave him the book "Cartomagia Fundamental" by Vicente Canuto. It brought magic back to his life and inspired him to create the shows and make people laugh at him, laugh at themselves and laugh with him.
It will be the first time for Muti Santarosa to perform in Poland.
Terra de Areia | Music | Poland
Terra de Areia is a musical project by Karolina Głogowska (viola, vocals) and Hanna Włodarczyk (guitar), graduates of the Wrocław Academy of Music. They are known from bands such as Nesztojegore, HuRaban, Cukry and Faustina Calavera.
Terra de Areia's music is a fusion of their experience in performing classical music, folk music, improvisation, as well as numerous journeys around the world in search of remarkable sounds and melodies. This has resulted in a very 'southern' project, with lyrics mainly in Romance languages and an island atmosphere full of warm winds from Cape Verde, the Canary Islands and South America.
Michal Nienadowski (double bass), Gerhard Kaulard (double bass) and Natalia Orkisz (cello, vocals) collaborate with the project.
Terra de Areia will perform in Zielona Góra and Krotoszyn.
Hanna Wlodarczyk performed at the BuskerBus in 2021 with the group HuRaban
The Twins' Trip "Same Same but Different" | Circus: Juggling, clownery | Argentina
The Twins' Trip is a duo of modern clowns formed by Emilio and Leandro Ponce – identical twin brothers from Argentina. During their tour "Celebrating the World", they have performed in over 40 countries in the last five years.
"Same Same but Different" is a circus show based on the special connection between the brothers. They share joy, they argue, but they cannot live without each other. They will present different skills, including magic and juggling, and prove to the audience that although they look alike, they have their unique personalities.
It will be the first time for The Twins' Trip to perform in Poland.