Meet the artists of BuskerBus 2019 and learn more about their street shows.
The 23rd International Festival of Street Art BuskerBus will take place between 23rd and 31st Aug 2019. The theme of this year's edition of BuskerBus is strength and precision.
Alegro Andante "Afueras" | Argentina | clownery, juggling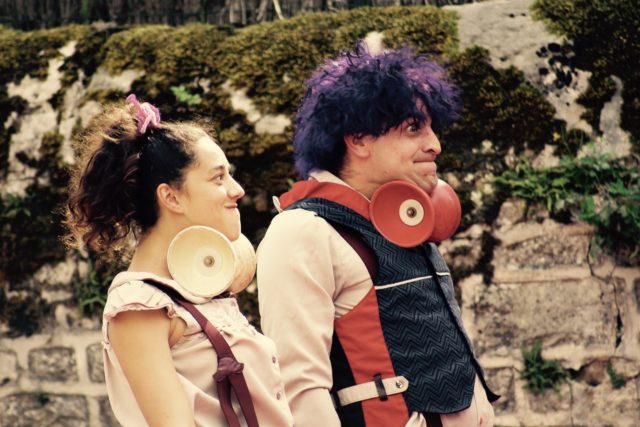 Alegro Andante is an Argentinian duo performing at BuskerBus festival for the first time. Florencia and Javier have been learning and improving their circus skills from an early age, and they have been working together as a duo since 2010. In their lively spectacle "Afureas" they combine circus, clownery, pantomime. Two characters Havinni and Catastrofa create funny situations and overcome difficulties in a playful way. They prove that we are all the same when we take out ridiculous problems an differences.
Brunitus "GÙSHI" | Argentina | clownery, juggling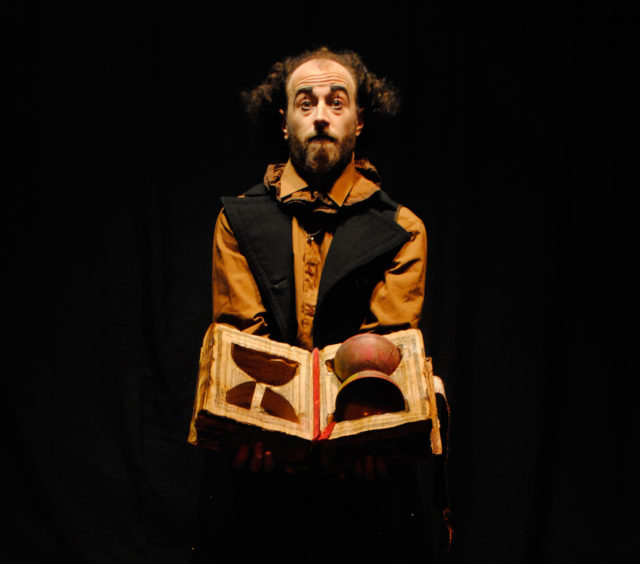 This year Brunitus celebrates 20 years travelling around the world with a contemporary street circus. Although he has visited many countries, it will be his first time performing in Poland.
"Gùshi" means stories in Chinese. Why tell stories with words, if you can tell them with diabolos?
The Diabolo is a millenary invention of Chinese origin. It was used before Christ to drive away evil spirits. Brunitus recovers this mystical fable in his new show. He takes us to a journey around human emotions through this element that spin, fly and tangled like our stories. We breathe stories. Without stories, there is no life; there is no time. Time is relative; relative to its story.
Caldera "Caldera Fire Show " | Germany| fireshow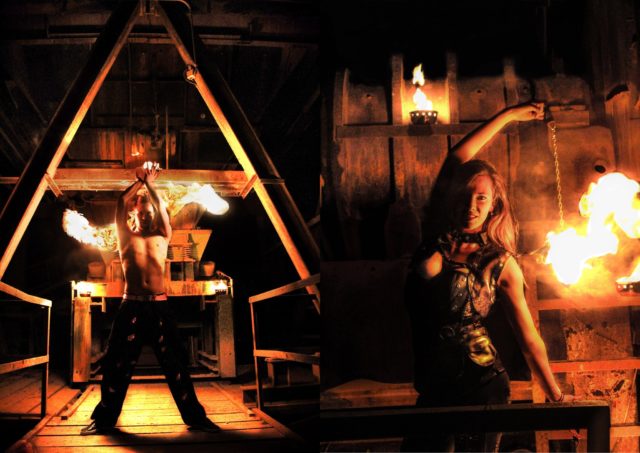 Caldera Fire Show is a spectacle presented by Denna and Thomas. The interesting thing – it's the same Denna who will perform as a solo singer. They will present juggling skills they've been improving for 10 years, as well as tricks and dances using i.a. hoops and poi, all accompanied by one of the most dangerous elements, which is fire. Will they manage to convince the audience that fire is more than a means of destruction and can be caught and even tamed?
Dancer Lucy "Tribal Fusion bellydance" | Czech Republic| dance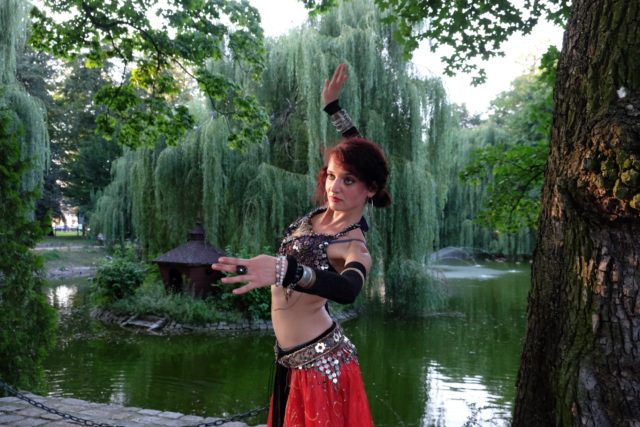 Lucy comes from the Czech Republic, and she has been a professional performer for over ten years. Although her primary style is Tribal Fusion, she often combines it with moves from other types of dance and uses various props. Lucy will perform at BuskerBus for the third time. Every year she brings a brand new show and impresses the audience with unique costumes that she makes by herself. As every kind of music evokes different movements, this year you will see her performing not only to music associated with belly dance but also to electronic and post-rock music. She also enjoys improvised performances so she will undoubtedly be joining musicians on stage.
Denna Kay "Travel with me – Songs from all over the world" | Germany| music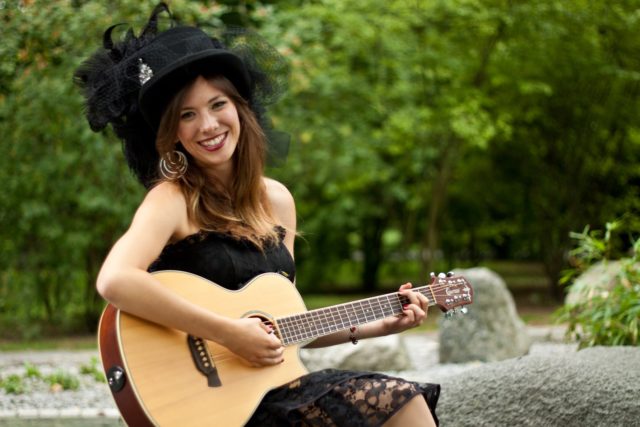 Denna Kay is a young singer/songwriter from Germany who has been performing on the street in 2013. She delights the audience with her authenticity and great humour. Melodies and stories combined with guitar sounds will touch your heart and take into a new world, experienced through the eyes of a musician. Beat by beat, verse by verse. Denna Kay will perform at the BuskerBus festival for the first time. She loves Polish food and culture, and she is looking forward to improving her Polish. The lyrics she writes are inspired by her life and experience during her travels, where she communed with many cultures. The appearance in Poland is an opportunity for her to experience another new adventure, and who knows, perhaps a song will be created out of it?
Dryadic "Dryadic Duo Live" | Poland, UK | music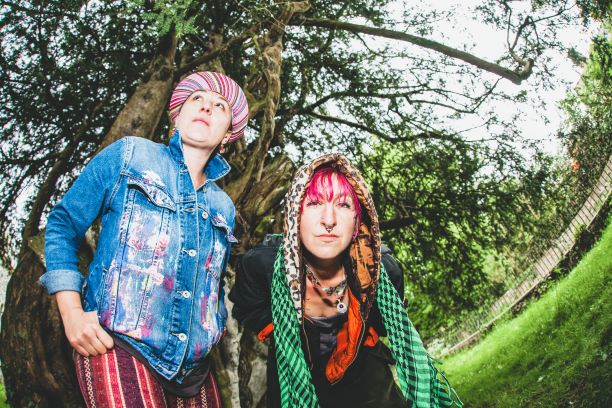 Zora and Jo deftly deploy double guitar, fiddle, dreamy vocals and percussive toys to bring their musings on the human condition to life, creating a captivating sound that promises to ensnare the most diverse of audiences. Dryadic's luscious, emotive pop hooks and candid, heartfelt lyrics traverse an acoustic-pop spectrum with eastern European influence at one end, and British trad-folk at the other.
Fabio Scalvini "Circus Mario Show" | Italy| acrobatics, clownery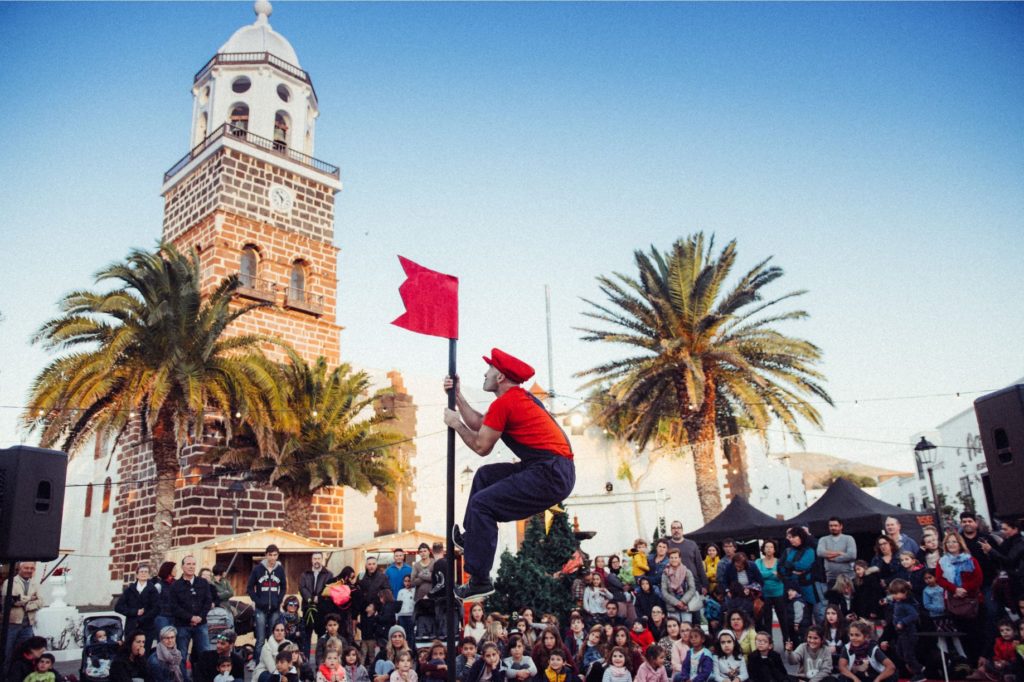 Mario is a daring plumber who loves adventures and tries to pass all the levels of a videogame. A task is not easy and requires various skills: acrobatics, balancing (rolla ball/slack rope), juggling, Chinese pole. What does it take to reach the final level? And, is there anyone who doesn't love Mario?
Ella John "What They Told Us in Winter" | Germany | music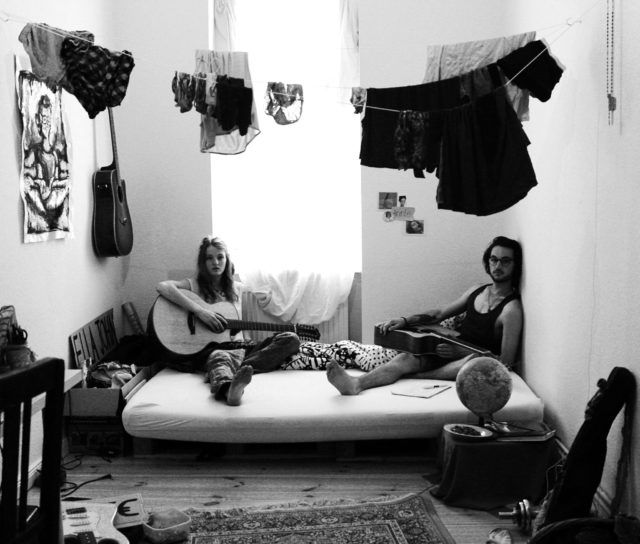 A young singer-songwriter from Berlin is sharing stories and thoughts about everything that matters and everything that should. Her songs, which are a mixture of experimental and melancholic Indie folk, tell us about the continuous journey that is called life, about awakening and escaping, about the birds above us and burning bridges behind us, about getting lost and getting home, about freedom and the everlasting search for the sea.
Hayatonnu… "Eternal Longing" | Japan| acrobatics, dance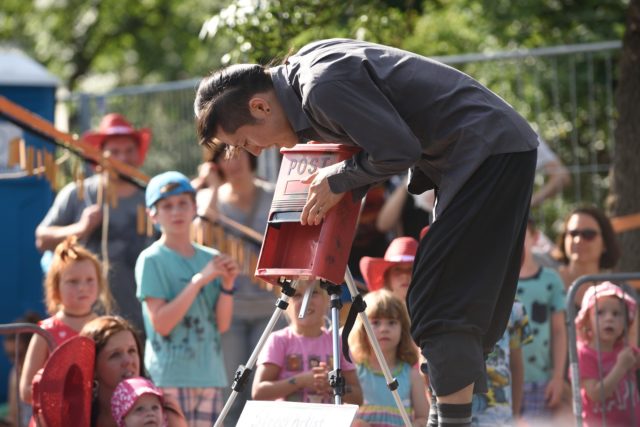 Hayatonnu… is a Japanese dancer who has been working in Europe since 2012. His style is based on contemporary dance, jazz, ballet, street dance, and acrobatics (especially hand balancing). In his show, he focuses on the feelings that everyone knows – sadness and happiness.

Laura Faleiros "HulaLá- One Woman Circus Show" | Brazil| acrobatics, dance, juggling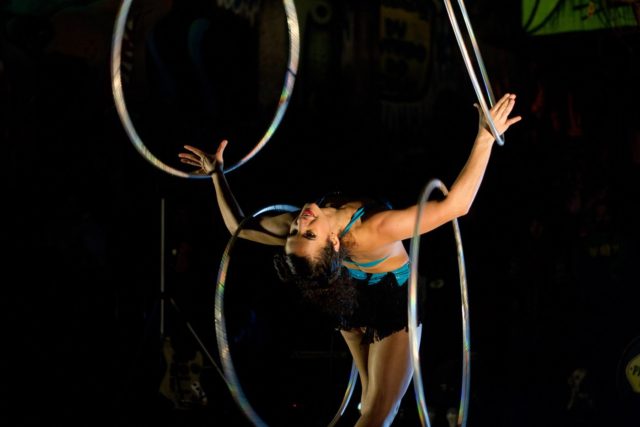 In her show, Laura Faleiros merges the essence of circus and street performance with feminine strength. Hulalá is based on music, rhythm and sensuality, expressed through the advanced techniques with hula hoops, whips, and different interactive games with the public.
Mariusz Goli "Mariusz Goli LIVE" | Poland | music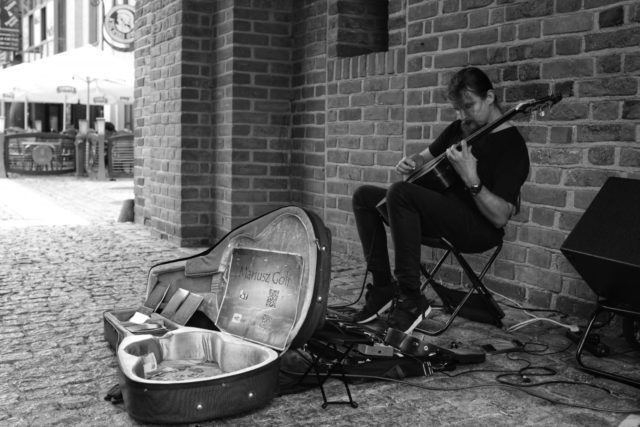 Mariusz Goli a guitarist and a busker born in Poznan, Poland. He can be seen performing in Katowice as well in other Polish cities. He has been playing the guitar since he was fifteen years old; however, his future was bound to this instrument seven years ago. Busking is his way of life.
Street concerts give Mariusz the greatest satisfaction because he loves direct contact with his audience. He transfers all his soul into the music.
Mariusz's music is very spontaneous. He loves to improvise. In his compositions, he tries to cover elements of flamenco as well as all sorts of folk music. He's still looking for his style, trying to discover new techniques.
Painé Santamaria "Maranha" | Argentina | clownery, juggling, music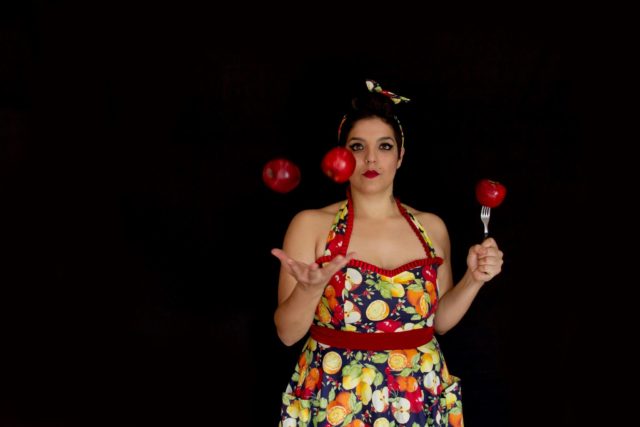 Painé Santamaria is an Argentinian juggler, clown and musician, currently based in Sao Paulo, Brazil. 
Her show Maranha is about a grotesque artist entangled in her thoughts and searches to the point of getting lost in the universe. In her mind, she creates a new world where the scenic objects become a companion in her journey. She invites the audience to her world filled with the sound but not with words. It is all about emotions: love, shame, loneliness, pleasure and rejection. 
Painé creates a soundtrack in real time with a loop-station, different instruments and objects. 
PER SE "Trashedy" | Argentina | acrobatics, juggling, clownery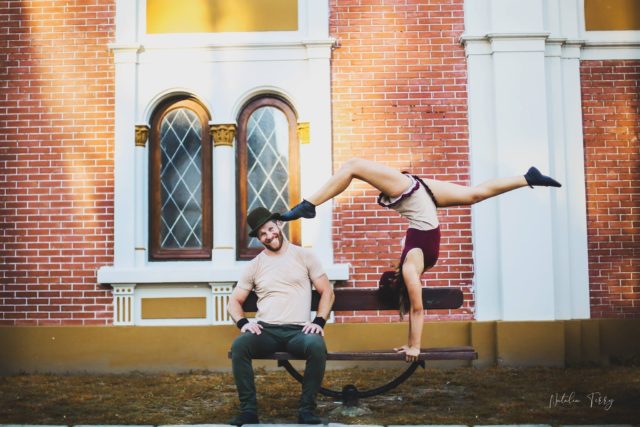 Two crazy people. He is a clumsy and sassy one who always tries to find the ridiculous ways to succeed. She is obsessed with cleanliness and has a temper which captivates his attention. When they meet, they create hilarious, risky and tender situations that will move the audience.
Philip Fairweather "A Tenor. An Hour" | UK | music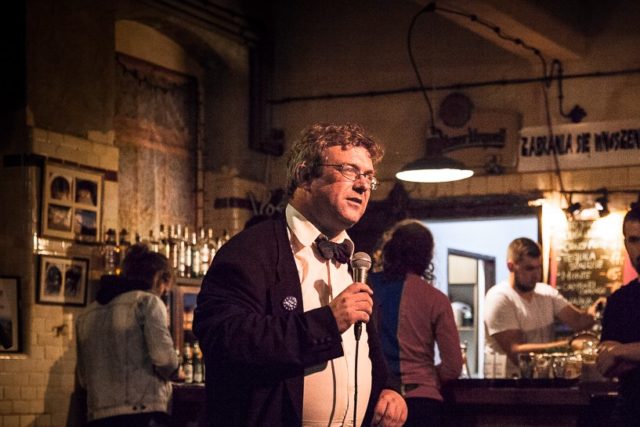 Philip Fairweather is an actor and singer from Exeter in England. He has been based in Wroclaw since 2003, where he has become a well-known figure on the local music scene, appearing at many cultural events. A regular street performer for over 30 years, he first began busking aged 14 in 1986 as a "Saturday job". In 1995 he took it up full time and toured over 20 countries in Europe. Philip first became involved with BuskerBus in 1999. From 2009, he has been the main host and coordinator of the BuskerBus Cabaret. If you have ever been to the festival club, you must remember his announcement "Welcome to BuuuuuuskerBuuuuuus Cabareeeet".
Plucie ogniem "Fire Breathing Show" | Poland | fire breathing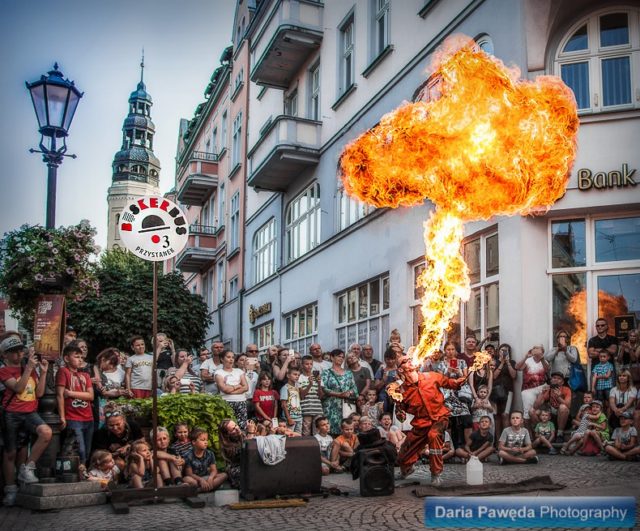 A brave hero in an orange suit shares the secrets of the most dangerous and mysterious art form – fire breathing. The show combines juggling spinning tricks with huge fire ropes, fire eating, and finishes with Marcin's signature act and the audience's favourite part – fire breathing. High and sustained for a long time flames give an excellent opportunity to take spectacular photos.

Popi "Sin Creacion" | Argentina | acrobatics, hula hoop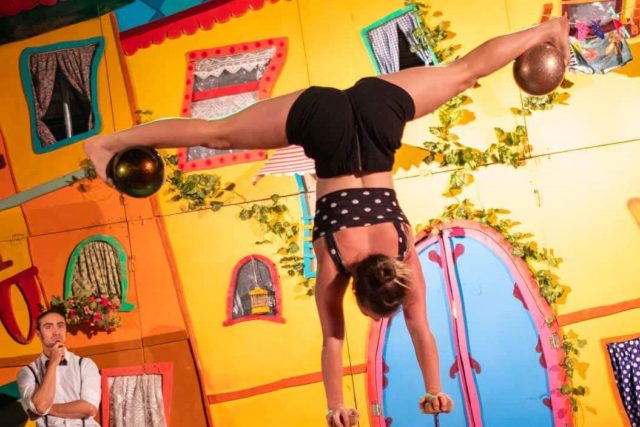 Popi is a circus artist from Argentina with a background in rhythmic gymnastics national team. She started training when she was three years old. She used to represent her home country, participating in various international competitions around the world. Since she finished her sports career, she has worked as a contortionist in a traditional circus tent, performed in theatres and on streets, continually developing her acts. Popi will perform at BuskerBus for the first time with a circus show "Sin Creación", where she combines acrobatics with balls, hula-hoop and hand balancing with humour and a little bit of irony, forming a creative and amusing spectacle for all age groups.
Ruby Jean Rose | USA/UK | music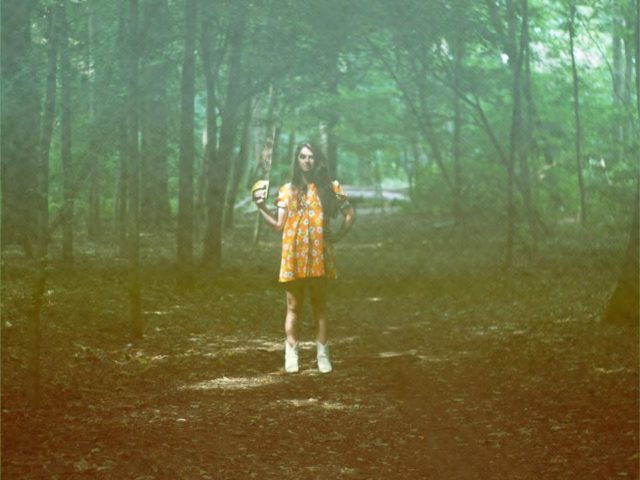 A US born and UK raised musician and street performer, passionately singing her original brand of Americana tunes. Ruby Jean Rose performs her original songs accompanied by tales of her travels, personal beliefs and anything that made an impact on her life. Unforgiving and full of brutal honesty and charm, Ruby always gives a performance straight from the heart. Prepare yourself for a tough girl in cowboy boots.
Teatr JaSię "Zielonomu" | Poland | clownery, juggling, unicycle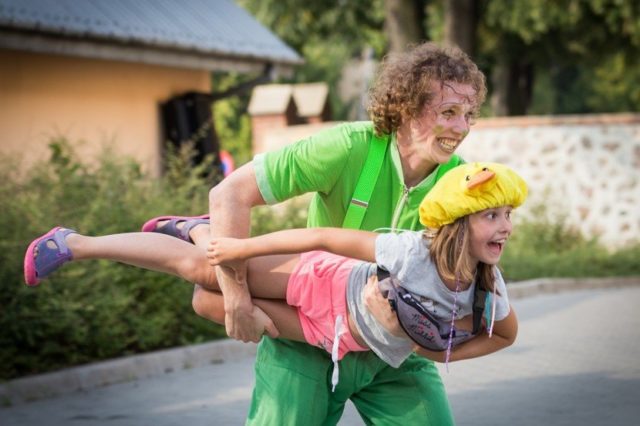 Jasiek Grządziela is a young clownery, circus and theatre of movement enthusiast. Since the young age, he was involved with his father's Pinezka Theatre, acting in Poland and all over Europe. In 2013 he started up his own solo theatre 'JaSię' and since then has actively presented and improved his show. It's the first time for him to perform at BuskerBus with a show 'Zielonomu', where a green clown pulling strange and bizarre things out of his green suitcase will make you laugh to tears. The audience will participate in juggling, unicycle riding and (not so) magical tricks – all put in green colours.
Umami Dancetheatre "Salao" | France, Spain| dance, theatre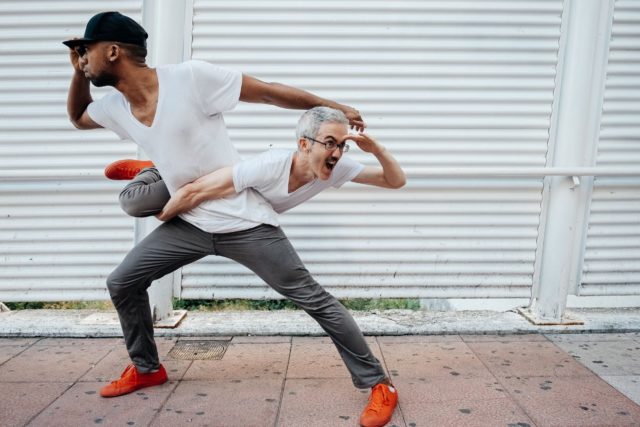 Umami Dancetheatre is a French/Spanish duo formed in 2013 in Madrid. Gustavo and Jerome were inspired by "umami" – the fifth taste. This Japanese word means "deliciousness", and it's this nice feeling their performances are intended to trigger. They're going to perform at BuskerBus for the third time, coming with a brand new show "Salao". This spectacle is different from what you've seen before: a version of Bizet's Carmen opera in an off-the-wall, slightly surreal and hilarious mix of breakdance, pantomime, theatre and physical comedy, based on Spanish culture stereotypes.
Wydmański-Show "Incredible Equilibrium" | Poland | juggling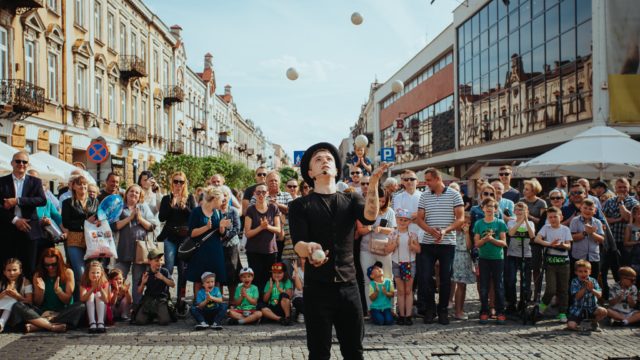 Kacper returns to BuskerBus to present his brand new show. "Incredible Equilibrium" is based on traditional circus routines combined with comedy. Kacper performs a variety of tricks such as balancing golf clubs on his face, balancing a glass on a knife and whip cracking routines. The show finishes with a balance on Rolla Bolla.
and
Kamila Szóstak "Strefa BODY ART" | Poland| bodypainting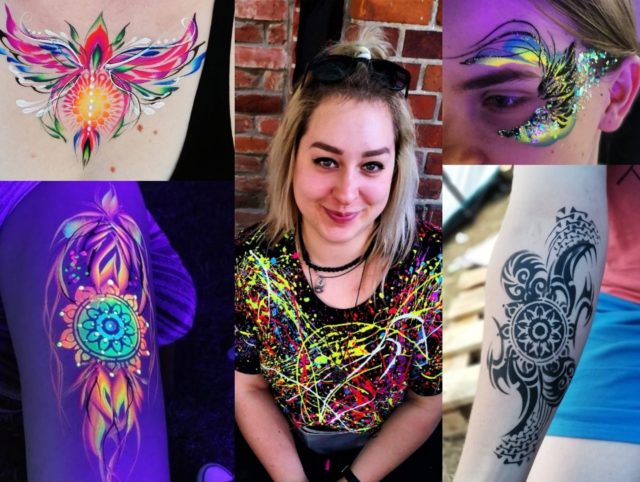 Only in Krotoszyn (Friday and Sunday) and in Wrocław
BODY ART ZONE is a place where Kamila paints artistic patterns on the body with a specialized type of paint. Who can be painted? Everybody! It is allowed for both children and adults. Her professional equipment allows you to create breathtaking artwork. It's up to you what you will have painted. It doesn't matter if you want to become a tiger, get festival makeup or a pattern on your arm, leg or cheek. For Kamila, body painting is great fun, many years' passion and the moment when she can free her artistic soul and imagination by choosing a pattern for a given person. BODY ART ZONE during the day is intensive colors and glitter, and in the evenings – BODY ART FLUO ZONE illuminated by UV lamps, where the paintings are luminated by the intense neon colors.
Krzysztof Czarski "Flowersick" | Poland| juggling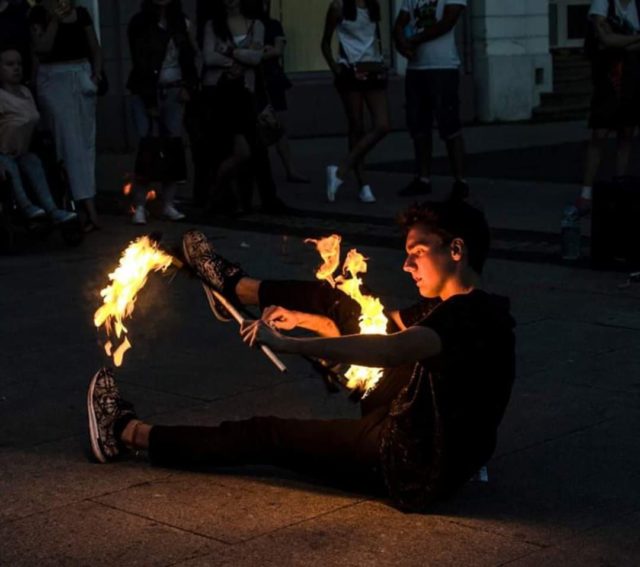 Only in Wrocław
Krzysztof specializes in "flowerstick" – he manipulates one burning stick using two smaller ones. He has been practicing for over half of his life and has performed in Qatar, Dubai, Abu Dhabi or Tokyo and many other places. The partly improvised show, combination of music and unique skills make the show worth watching even several times – you will be surprised at what you can do with three sticks.
Maciej Kulhawik "Król Wrocławia" | Poland| illusionist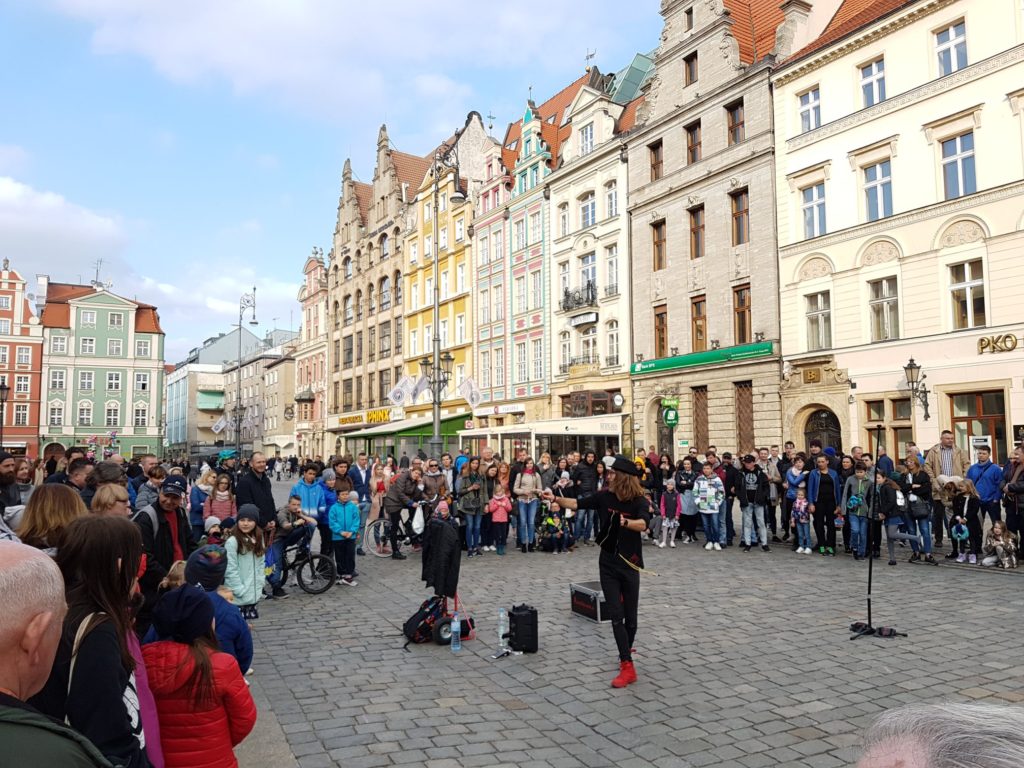 Only in Wrocław.
Ian Deadly "People vs Ian Deadly" | Great Britain | juggling, comedy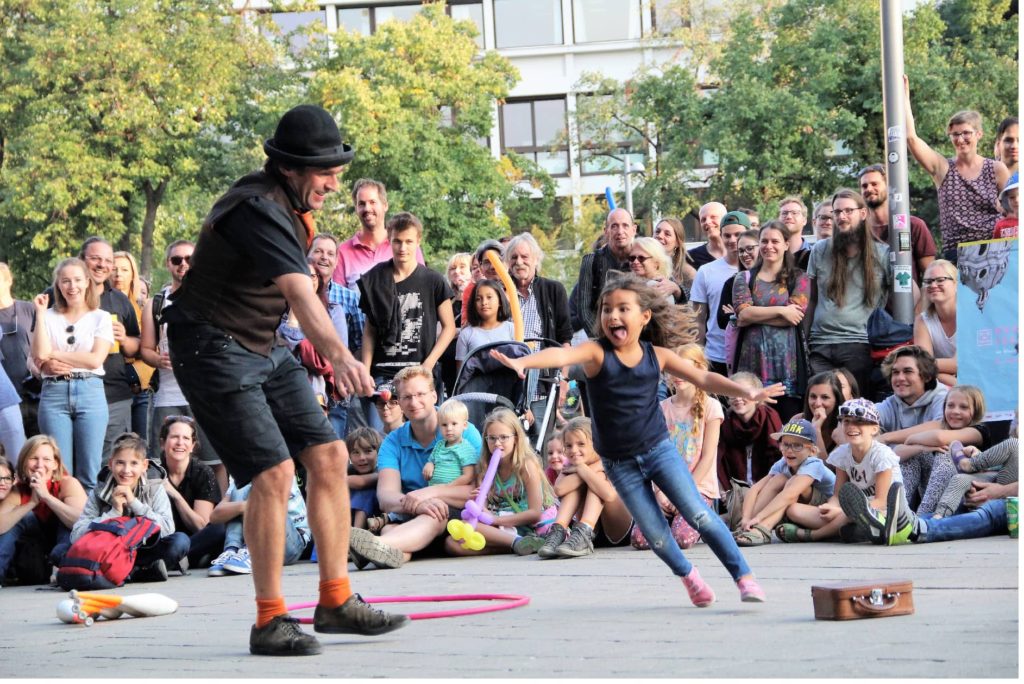 Ian returns to BuskerBus for one day to present his show in a fizzling new format. The idea is simple, Ian Deadly meets the public and the results become the show. The show is built together scene by scene with the audience using music, comedy, beautiful juggling and spontaneity. Wild comedy improvisation, hula hoop and a dangerous sense of the ridiculous combine for a new explosive finale.
Ian will perform only on 28/08 in Wrocław.
(All photos were provided by the artists)