Art comes back out to the streets!

The 23rd International Street Art Festival BuskerBus (in short BuskerBus 2019) will take place in three cities: in Krotoszyn, in Wroclaw and Zielona Góra.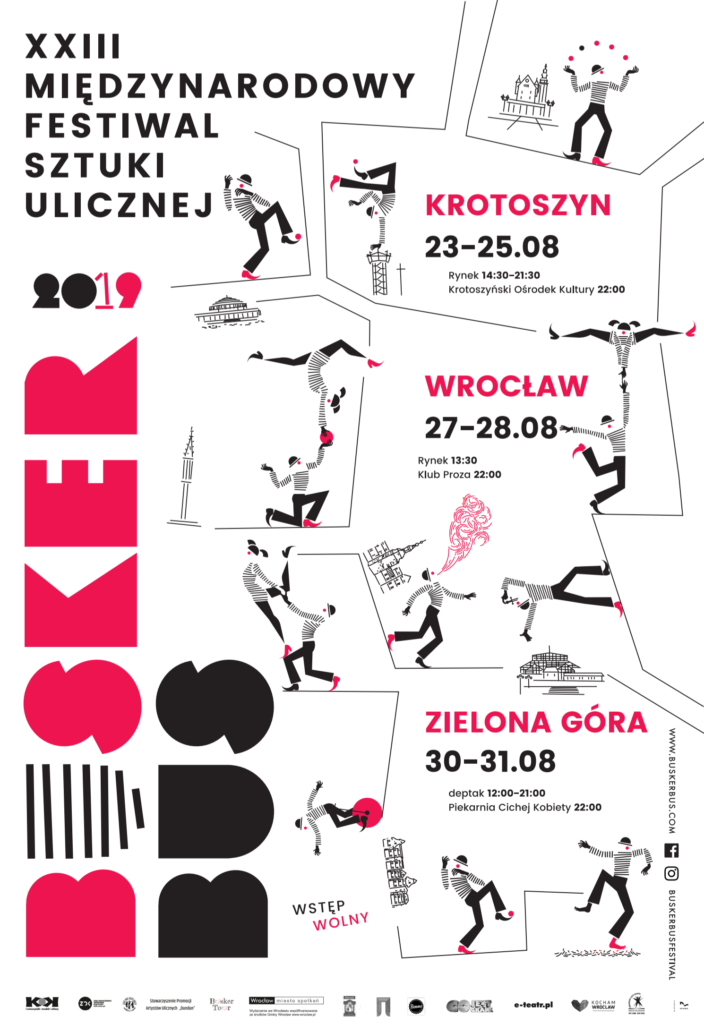 BuskerBus 2019 – schedule
23-25.08 Krotoszyn (street shows: 14:30-21:30 Main Square | festival club: 22:00 Krotoszyński Ośrodek Kultury)
27-28.08 Wrocław (street shows 13:30 Main Square, Solny Square | festival club 22:30 Proza)
30-31.08 Zielona Góra (street shows 12:00 pedestrian street| festival club: 22:00 Piekarnia Cichej Kobiety)
Artistic programme
Buskers from all over the world will each present their one of a kind show, that refers to the tradition of street theatre and uses elements of different disciplines of the new circus, juggling and dance. The theme of BuskerBus 2019 is strength and precision.

BuskerBus aims not only to present the most interesting street shows and a diverse line-up but also to create an inspiring atmosphere. Artistic collaborations, networking, and exchanging ideas are an integral part of BuskerBus. For that reason, the festival features both experienced and up-and-coming artists. Many of them will perform in Poland for the first time.

Spectacular circus shows and dance theatres
Brunitus from Argentina will prove that he can tell every story with his diabolo. The French-Spanish duo Umami Dancetheatre will present their interpretation of the "Carmen" opera, using breakdance and pantomime. Hayatonuu… from Japan will combine acrobatics with modern dance in his touching show, and new choreographies of belly dance will be presented by Dancer Lucy from the Czech Republic.

Solo shows of experienced circus artists from South America will constitute yet another distinctive feature of the festival. Laura Faleiros will perform impressive evolutions with hula-hoops, POPI – acrobatics stunts that require years to master, and Painé Santamaria will present advanced juggling routines combining her acting and musical talent.

Spectacular performances demanding strength and precision will also be presented by two duets from Argentina. Per Se will delight with partner acrobatics, and Alegro Andante will make sure that audiences of all ages laugh to tears.

BuskerBus also features Polish circus artists. The Wroclaw-based juggler Kacper Wydmański returns to BuskerBus with his new show "Incredible Equilibrium". Teatr JaSię will perform for the first time.

Live music
Precision is required not only in the circus and in dance shows, but also in music. What inspired the selection of this year's music programme was a Polish classic "Chłopiec z gitarą" (The Boy with a Guitar). In the street, it is much easier to make passers-by stay when musicians play well-known covers. However, the musical part of the festival will be marked by talented artists presenting their own songs. Stop, close your eyes and let them drag you into their magical world filled with carefully selected sounds of the guitar, beautiful vocals and meaningful stories. Invited artists: Ella John (Germany), Denna Kay (Germany), Ruby Jean Rose (UK/USA), Dryadic (Poland/UK), Mariusz Goli (Poland). Philip Fairweather will be the host of BuskerBus Cabaret.

Detailed descriptions of the shows are available on our website.

About BuskerBus Festival
BuskerBus is a celebration of the new circus and street theatre. The festival entertains, triggers emotions, opens the audience up to new experiences, reduces the distance between the audience and the actors, introduces culture to the urban space. BuskerBus proves that theatre can be easily available and that any place can become a stage. The audience becomes a part of the action, and every gate, monument or bench transforms into a part of the set design. For all the invited artists, street art is both a passion and work, and the street is no less important a stage than the one in traditional theatres.

BuskerBus is a hat-based festival. Entrance is free, but we encourage you to award artists with tips, applause or at least a smile. The more energy you give them, the more they will give back to you.

There are no barriers at the festival. Artists set their own stages (for security reasons, especially during circus show – please follow their recommendations). We suggest you bring a blanket in order to be able to watch the shows comfortably.

Organisers
Artistic director Małgorzata Węglarz, Zielonogórski Ośrodek Kultury (Zielona Góra) and Krotoszyński Ośrodek Kultury (Krotoszyn). BuskerBus in Wroclaw is organised by Stowarzyszenie Promocji Artystów Ulicznych "Dundun" and financed by the Municipality of Wrocław www.wroclaw.pl