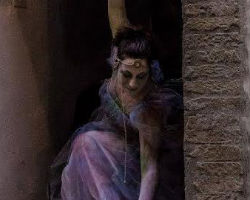 AérechO
Bio: Αερηχώ AérechO (from the greek words "aér" (air) and "echo") is a non-profit cultural organization using performing arts and a variety of other artistic genres to explore how people relate to time and space, especially to the public space. AérechO was founded by Kórinna Latèlis, a classically trained musician and a street-performer since 2006.
Show: "Neeria-the-Faery" – a site-adaptive/ itinerant street act by Aérecho Cie. Sweet and funny – and slightly eccentric – Neeria-the-Faery lives in a parallel universe of her own. She has a rather peculiar perception of the world around her and often uses the space around her in an unconventional way.
Website: www.facebook.com/AerechO Photo by Bart Chindemi.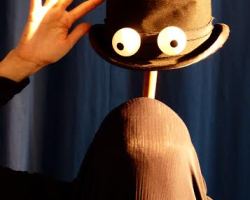 Anita Bertolami
Bio: Anita Bertolami grew up in Switzerland but has since lived in Ireland, Denmark and now Germany. She's studied Physical Theatre and perform her own productions in festivals all over the world.
Show: Transfiguro is a poetic journey into the fantastic. With her main prop consisting of her own body, Anita Bertolami creates a charming array of characters, carefully bringing them to life in front of the eyes of the audience. Every new personality takes on a life of its own. With their gentle charm, these figures invite the audience into a non-verbal realm of the fantastic.
Website: anita.bertolami.net/
Basura Belleza
Bio: Basura Belleza is a show created by an Argentinian artist Federico Galvan.
Show: Basura Belleza (Beauty Trash) is a marionette show in which three stories of the three characters unfold. Basura Belleza emphasizes the charm of simplicity and intends thrilling through the poetic language characteristic of the ancient art of storytelling with puppets.
Website: www.basurabelleza.com.ar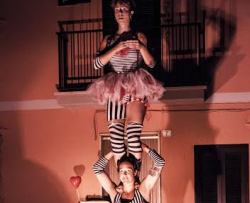 Belle Etage
Bio: "Belle Etage" a two woman streetartists company from Vienna/Austria
Show: [dream!], means mixing up acrodance, acrobatics, pantomime and streettheaterelements to a surreal, fabulous, modern story. A girl finds a puppet. Her greatest dream becomes true. Playing together the puppet feels its heartbeat and freedom for the first time. Do you give freedom to somebody you love?…
Website: www.belleetage-stelzentheater.com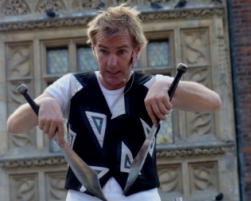 Benny B
Bio: Originally an Electrical Engineer, Ben decided to follow his dreams and become a clown!
Show: The Benny B Show features a unique combination of elegant juggling, bizarre physical comedy and outrageous audience participation. The show culminates with him performing dangerous stunts balanced atop a 2 metre tall free standing ladder!
Website: www.bentertainment.biz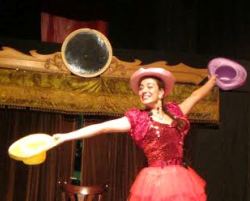 Capela Cabaret
Bio: Valeria Arboleda– anarchic Comedian — has studied dramatic arts in Colombia and Spain; and has continued her training at various national circus schools in countries throughout Latin America including: Cuba, Colombia, Venezuela, Mexico and Argentina.
Show: The show has two formats.One version as a street show called "Caribean Burlesque" perfect for kids and family audience and a theatre play called "Burlesque Voudeville" ment for adults." Capela Cabaret mixes performance, sin and sensulaity, culture and taboos of erotism with Salsa rythm.
Website: www.capelacabaret.com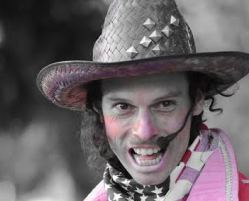 Carlos Montenegro
Bio: Karlos Monte is Montercermundo.Originally from Colombia he has been traveling around the world for more than 15 years performing in America, Europe and Asia. Actually his show includes diferent characters of the third world comedy.
Show: Third world comedy is the Style developed by Montercermundo. The Comedy is the reflex of the society and the culture. In the Third world Comedy, the characters (such as the cowboy, the priest, the indian or the woman, represents the relationships of power an dominance of the underdeveloped countries. The show includes juggling, equilibriums, precision and clowning.
Website: www.montercermundo.com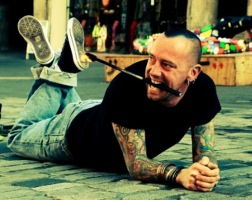 Chicken Joe
Bio: Chicken Joe is coming from Belfast, Northern Ireland. He is a professional street performer and entertainer of all sorts with more than 15 years of experience in street performing, circus acts, theater and stand-up comedy, freak shows, burlesque and dance.
Show: His show can be diverse, depends on the crowd and the season. His summer shows consist of: fitting his body through a tennis racket (contortionist), juggling two fire torches and a juggling knife, cracking bull whips and a Slovenian whip, chopping a cucumber with a machete on a volunteer's stomach and laying on a bed of broken glass having a volunteer standing on my stomach, everything accompanied with lots of witty humour and classic comedy lines.
Website: https://www.facebook.com/ChickenJoe.ThePerformer?fref=ts, https://www.facebook.com/chickenjoex.theperformer?fref=ts Photo credit: Alan Falzon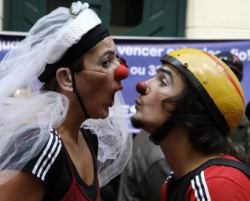 Cia.UmPedeDois
Bio: The CiaUmPédeDois are from Brazil. Duo started with a meeting between Mariana Ferreira and Mauro Bruzza.They have travelled to many places in Latin America and Europe.
Show: Their show"To wander you go far and with a bicycle you go further" tells a true story of love between Camomila and Quindim! They love each other and love to ride a bike!!
Website: www.ciaumpededois.blogspot.com Photo: Andy Marshall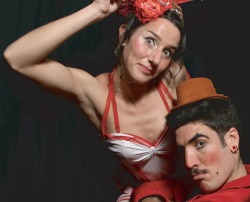 CLAP CLAP
Bio: "CLAP CLAP" is a circus-theater company formed by Irene Carrier (Uruguay) and Joaquin Caride (Argentina).
Show: "High Voltage" is their original, dinamic and fun show, for all audiences, with circus performances, such as hula-hoop ang juggling, the whole show is tainted with humor, and theatrical scenes. Music plays a very important role, every scene is presented like a coreography, the characters speak only to enhance the action. Both actors keep changing roles and costumes, to became diferent characters all along the show.
Website: www.clapclapcircoteatro.blogspot.com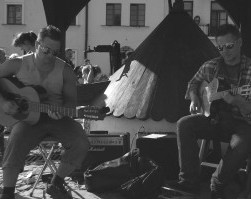 Cocotier
Bio: Cocotier Band came into existence 14 years ago in Zabrze, Poland and now consists of three musicians: Lider- Andrzej Krośniak (guitar), Mateusz Gremlowski (bass),Krzysztof Cisowski ( guitar). The name of the group means coconut tree in direct translation, in other words you can say that everyone is crazy about something – if you think about band's members- it is just music.
Show: Cocotier presents a unique mélange of folk, flamenco, jazz and Latino music, original compositions that express the musical sensibility of every musician in the band.
Website: www.facebook.com/CocotierBandProfile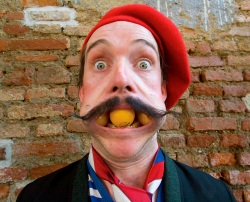 Dan Le Man
Bio: Australian born Dan Renwick has studied Circus Skills in England, Physical Theatre in Australia, speaks German, lives in Estonia, plays a French character and he also makes his own brand of perfume! His unique style of wordless performance has been performed from Brazil to Russia and lots of places in between, on stage, in the street and in the bathroom.
Show: With weird circus stunts, silly magic tricks, audience participation, awesome physical comedy and ping pong ball mouth juggling, Tantric Comedy is a show that will leave you giggling with delight. And all performed without uttering a single word.
Website: www.dan-le-man.com Photo credit – Emanuele Cristallo
Dan Marques
Bio: Brazilian performer specialised in circus.
Show: "Funnykito" is a captivating and enchanting comedy magic and illusion show, created and performed by the Brazilian artist Dan Marques.
Website: www.funnykito.info/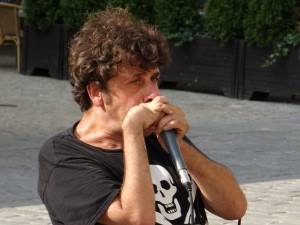 Dodo Harmonica Blues Bio: Dodo " Harmonica kid" is a busker "doc" , a street musician of real talent , that for 365 days a year fails to conquer the streets in Italy and abroad with his music and his passion.
Show: Dodo Harmonica with his repertoire of country, blues and Irish music attracts and engage an audience with his catchy harmonica performance.
Website: www.youtube.com/dodoharmonicakid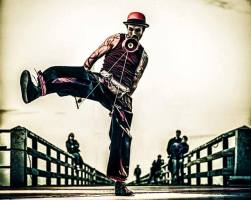 El Diabolero
Bio: Abraham Thill is a street circusperformer and actor from Vienna, Austria. Show: "Diabolirium" is not just a classical diabolo-juggling-act. It ́is packed with clowning, miming, comedy, improvisations and high-skilled diabolo-techniques. A lot of improvisation within a structured performance makes each show a little bit different. There ́is a lot of audience-participation, animation and thrilling skills , like tosses, multiple diabolojuggling, etc.
Website: www.eldiabolero.com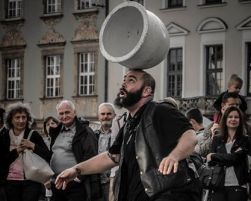 Faeble Kievman (FAFA)
Bio: Faeble Kievman (FAFA) is a clown, actor, director, singer, song- writer, circus artist, performance artist, street performer, musician and all around entertainer.
Show: Meet me. Feeble. Your friendly neighborhood bum. This show is trash clown street show with an artistic eccentric bend to it. Combing vase juggling, glass bottle manipulation and tricks comedy audience participation and comedy magic. The show includes glass walking, side show stunts, clown antics and bouffon. Performing this show in San Francisco's burlesque variety scene and on the street at Fisherman's Wharf and around the world has helped develop its self into a uniquely ridiculous, funny and daring show with a poetic touch, allowing the audience to realize that even the ordinary and underprivileged human being are capable of extraordinary feats!
Website: http://fafasuniverse.com/ Photo credits: Natalia Małkiewicz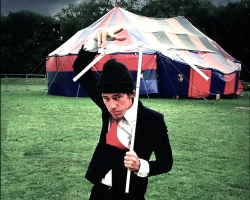 Gregor Wollny
Bio: Gregor Wollny is a clown, pantomime player and juggler from Berlin, Germany. He has a lot to tell, but you will not hear a word. He believes that silence is golden.
Show: Gregor doesn't use many attributes for his show. In his hands a simple folding rule can change into a wild beast or a lovely butterfly.
Website: www.gregor-wollny.de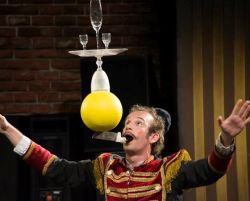 Guga Morales, The Sean Man
Bio: With 10 years experience, Guga Morales specializes in juggling, juggling, music (trumpet and sax) and street theater. Always using improvisations of classical works his jester and funny. At this time presenting his solo spectacle – "The Seal Man".
Show: Guga Morales became known as the man Foca. After optimizing a circus technique in which the artist balances a ball on a cone at the mouth end up with the balance of bowls on the edge of a knife. Closing the spectacle comes the number of unicycle where the artist presents decoupling tricks and juggling on a unicycle than two meters high.
Website: www.gugamorales.com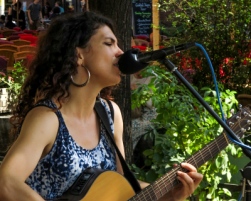 Hannah Pearl and Cash Weijers Bio: Hannah Pearl and Cash Weijers are a dynamic musical duo from the far shores of Australia. Both talented singers and guitarists, they bring a special chemistry to their spellbinding original songs and fun covers. Show: Playing their all time favorite songs and originals with charisma and verve, these two will charm you at Buskerbus with their upbeat, rollicking tunes. Website: hannahpearl.net, www.facebook.com/hannahpearlmusic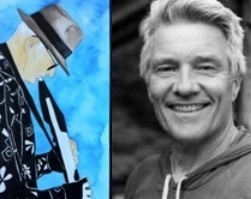 Henrik Jespersen & Mikael Tosti Bio: Mikael Tosti on violin and Henrik Jespersen(Shaman of the Wind) on Electric Wind Instrument(EWI). They both come from Denmark and make concerts
Show: Duo "Henrik Jespersen and Mikael Tosti" play electro acoustic music transformed through the mysterious Tundra underground sound with a touch of Nordic Sky.
Website: silentflute.dk, henriksax.dk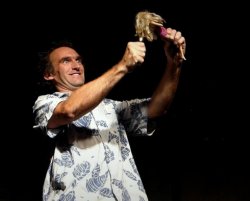 Ian Deadly
Bio: An English street performer who has worked soley and in other groups specialising in juggling and hand to hand acrobatics, he has attended numerous workshops in theatre, mime, dance and juggling.
Show: This multi-award winning show features brand new material for 2014! An intensely unique improvised performance creating a different show every time.
Website: www.iandeadly.moonfruit.com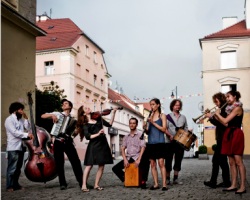 Kapela Timingeiu
Bio: Kapela Timingeriu is a family band from Wroclaw, Poland, created from the natural need of experiencing music as the situation; in a specific time, place. They play for people.
Show: Kapela Timingeriu performs mainly Gypsy, Jewish and Balkan music, old, well-known standards as well as the forgotten songs worth reminding. Photo credit: Piotr Spigiel
Website: kapelatimingeriu.pl/, soundcloud.com/kapelatimingeriu-pl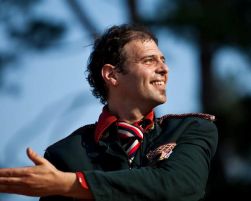 Maurangas
Bio: Mauro Wolinsky is a street performer well-knows to the BuskerBus audience.
Show: ¨MAURANGAS is a one-man-show which combines circus, theatre,comedy and music.
Website: maurangacirco.com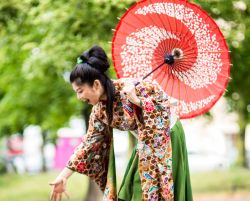 MiMi
Bio: MiMi is a Japanese artist who has traveled and performed in more than 100 countries. Performing is her passion, love and life.
Show: =Passion of Fire = Fire Dance Show. Magic moments of Dance and Fire melting into each other. =Bubble Gum= Soap Bubble Action- A Giant Soap Bubble everybody can participate in and enjoy together!
Website: www.orientalmermaid.com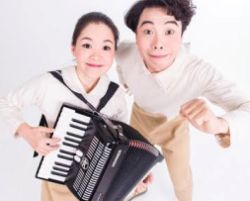 MUTE
Bio: MUTE is a duo performance of Thai pantomime artists. MUTE presents the performance in what they called "Romantic Comedy Mime" — fun and easy-to-understand stories nearby people for all ages, nationalities and languages.
Show: MUTE has brought stories to make you feel and share the warmth of the heart with both of them. The touching love stories with a cute sense of humour makes you laugh with tear. Website: www.mutemime.com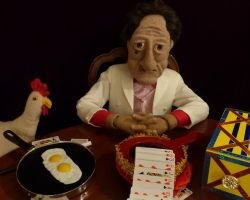 Ola Muchin Bio: Ola Muchin is a street artist from Poland. She makes a puppet show with handmade felt protagonists. Her adventure in street arts began during the summer 2012. Although she has started recently she had already the pleasure to perform in many countries. Show: World- renowned magician Osvaldo Drevno surprises the audience with his outlandish and incredible illusions. This unconventional artist, instead of having a beautiful assistant, develops his tricks with the help of chicken and other characters who appear in surprising circumstances. His magic is so unpredictable that sometimes even Osvaldo doesn´t know how it will end.
Website: ola-muchin.wix.com/show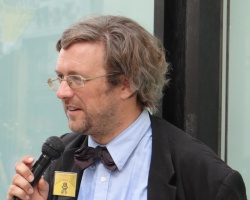 Philip Fraiweather Bio: Philip Fairweather is an actor and singer from Exeter in England, but currently living in Wroclaw. A veteran street performer, he first began busking aged 14 in 1986 as a "saturday job". In 1995, he took it up full time and toured over 20 countries in Europe. Philip first became involved with BuskerBus in 1999 and has been to every festival since. From 2009, he has hosted and coordinated the BuskerBus Cabaret on each evening of the festival. Website: www.philip.fairweather.astroeuros.com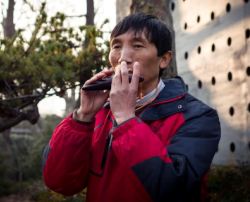 Qian Lan
Bio: Qian Lan is a musician from Shanghai China. He plays bamboo flute and ocarina. Until 1989 he didn't take it seriously but everything changed when he went to Australia and started busking. Since then he has been performing in many countries. Show: Qian Lan will play Chinese instruments: bamboo flute and ocarina.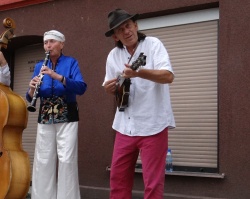 RUACH
Bio: The Polish-Jewish Duo RUACH is made up of Dorothea and Boguslaw Hegeduess who dedicated their love and lives to the traditional Jewish music.
Show: From Minor to Major-Tradycyjna Muzyka Żydowska (Traditional Jewish Music). Dorothea squeezes the most sweet tones of her clarinet and Boguslaw with his amazing rhythms and chords on his guitar and mandolin recreates the musical identity of the 'Old World'.
Website: www.ruach.pl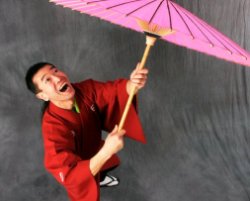 Senmaru & Kyouji
Bio: Senmaru & Kyouji are from Tokyo Japan. They show Japanese traditional performing arts "Edo-Daikagura".
Show: The original purpose of "Edo-Daikagura" was to serve as a talisman for the people, chasing away evil. Thus, it was originally a very sacred and serious performance. Today, the performance is becoming people's entertainment. Senmaru & Kyouji wear "kimono" and performs Japanese traditional tricks.
Website: senmaru.info, www.facebook.com/senmaru.m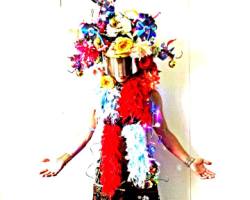 SUPER NATSUKI TAMURA
Bio: SUPER NATSUKI TAMURA is a Japanese solo musician who playing Didgeridoo and Bucket drum.
Show: With his unconventional costume and unique multitasking performance of the didgeridoo, percussion and electroric instruments,he continues to pursue a unique from of ethnic music.
Website: www.facebook.com/natsuki.tamura.33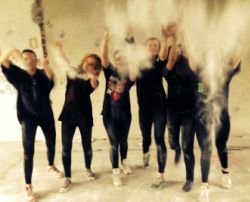 Teatr Tańca Ulicznego Chodnik
Bio: Teatr Tańca Ulicznego Chodnik (Theatre of the Street Dance Chodnik) is a group of people who are fascinated by dance and street. They mix various style, learn new technics, improve they skill to create a unique show.
Show: "I narodzę się znowu" (and I will be born again) referring to the 100th anniversary of the burning of their home town Kalisz.
Website: http://www.side-walk.pl/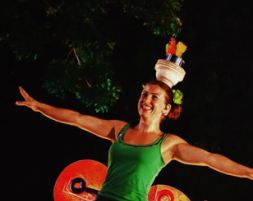 Tina Green
Bio: A graduate of the New Zealand Physical Theatre and Circus School – Circo Arts, Emma Khourey specializes in Unicycle, Bowl Kicking and Hula Hoops. In addition Emma has undertaken 6 months of advanced circus training in China at The Beijing Acrobatics School (2010) and studied at Bonts's Escuela Internacional De Clown in Ibiza (2012). ). At home Emma has trained with Australian contemporary circus companies Circus Oz, Circus Monoxide and Circus Wow.
Show: This action packed show includes hula hoops, comedy, tall unicycle, Chinese bowl kicking and a ring of fire. Not only will you see Tina Green balanced sky high on a unicycle kicking crockery up into the air and catching it on her head, she finishes the show with one of the most dangerous unicycle tricks possible – hula hooping a ring of fire whilst balancing high on the unicycle.
Website: www.tinagreencircus.com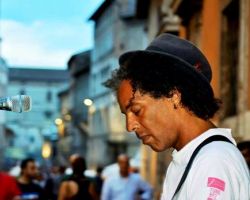 Vincent van Hessen
Bio: Vincent van Hessen from the Netherlands. Began his busking career in the Subway system of New York City and paved his musical path along multiple European cities and many countries around the globe in recent years, having preformed in numerous festivals and busked in many city centers
Show: Vincent van Hessen's musical show is a mix of styles all flowing into one upbeat show. Many covers are being covered, pop songs, Bossa novas, Funk, Blues and even Classical songs on occasion. Since Vincent is also a songwriter original material is being smuggled into the busking show every now and then for extra diversity.
Website: www.facebook.com/vincevanhessen
[fbcomments]